Chengdu Restaurant is dishing up a hit parade of new Sichuanese food to prove beyond the usual staples of mala hotpot, mapo tofu and kungpao chicken.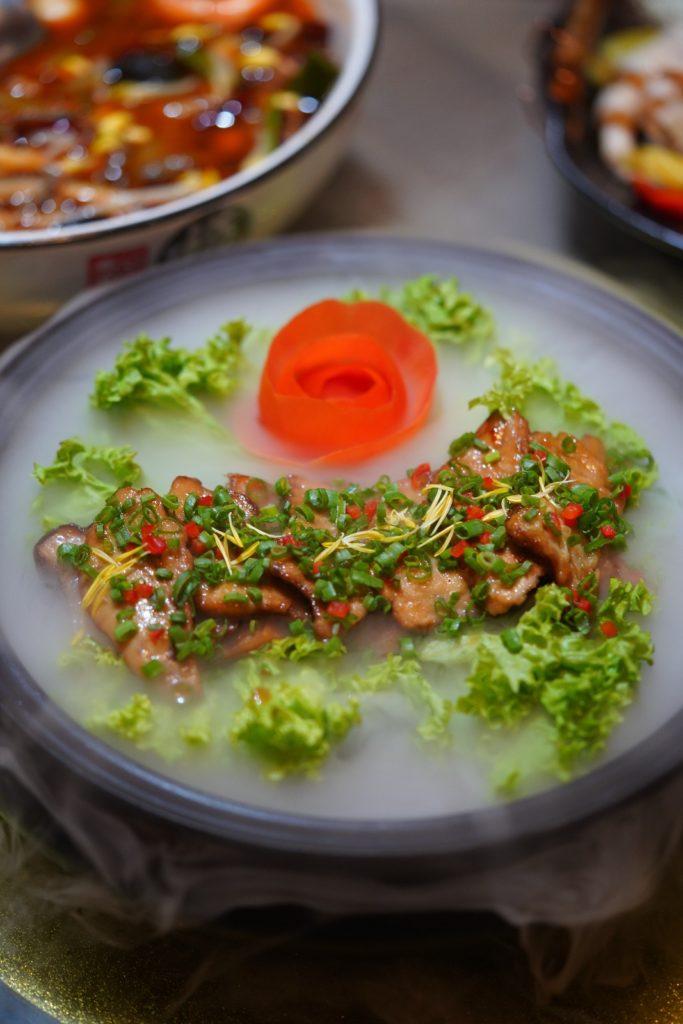 Kickstart with a savoury appetizer of Roasted Foie Gras 一品干烧鹅肝S$42.80, a lavish culmination of Sichuan flavours reimagined with modern techniques. In this luxe ensemble, ultra-rich and smooth foie gras pan-seared to a golden perfection is served with king oyster mushrooms, spring onions and red pepper flakes.
Sichuan Eggplant Claypot

Beggar Potato
Whet your appetite further with the Popular crowd-pleaser side dishes include the Sichuan Eggplant Claypot 土砵茄子煲S$12.80 and the Beggar Potato叫花土豆 S$12.80 which are fried mini potatoes. In the former, lightly seasoned deep-fried eggplant strips with makes an excellent healthier alternative to your typical French fries. In the latter, tubers of potatoare first boiled, then coated with a secret-recipe mix of 20 spices before they are deep-fried. The result is a satisfying texture of crispy golden on the outside and fluffy within. Chilli powder and cumin powder are then sprinkled atop the spherical hunks of potato for a fiery and earthy punch.
Another popular Sichuan dish is the Fish Fillet in Sour Soup 重庆酸菜鱼S$22.80 (S) S$29.80 (L), a spicy and sour soup of small curls of boneless sole fish fillet in a broth laden with Sichuan peppercorns, pepper, ginger, preserved pickled vegetables and enoki mushrooms.
Address: 74 Amoy Street, Singapore 069893
Seating Capacity: 180 pax, 2 private rooms
Operating Hours: Mon – Sat: 11.00am-3.00pm, 5.00-10:30pm. Closed on Sunday.
Telephone: +65 8533 9928