We're two weeks away from ringing in the Year of the Rat, which means it's almost time to gather your family and friends for a warm reunion. One of our favorite parts of these reunions? The delicious traditional food awaiting our tummies! This year, we're skipping out on the hassle of cooking and calling up to make those reservations. Ready to make that call? Take a look at our list to make your choice!
Cassia, Capella Singapore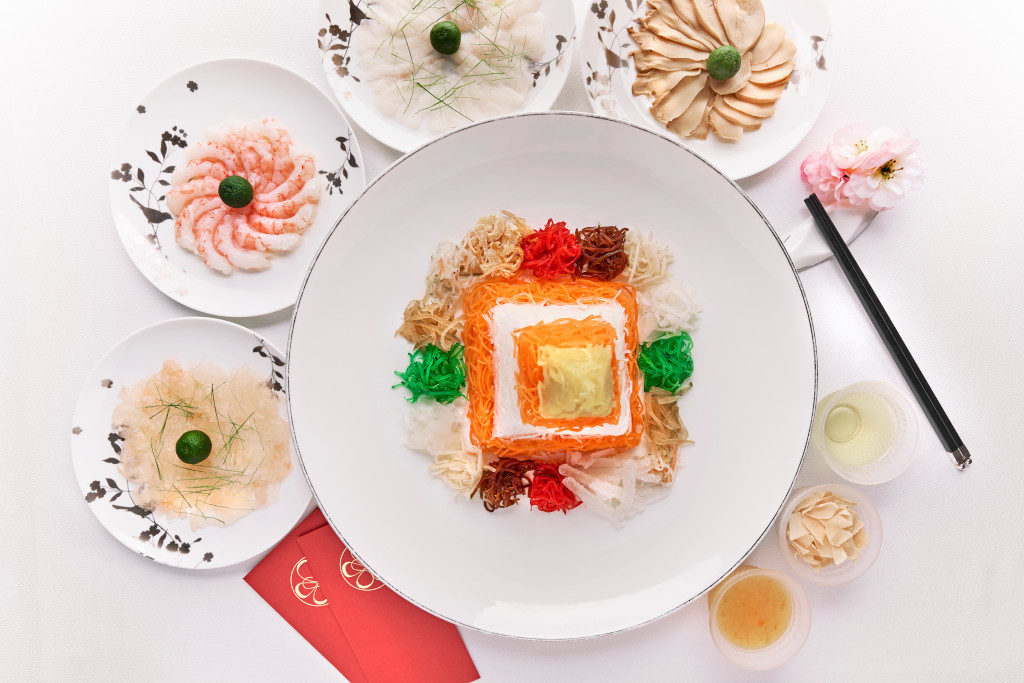 This beautiful gem located in Capella Singapore, Sentosa Island invites guests to celebrate a renaissance in Chinese fine dining. Inspired by age-old spice routes in Southern and Western China all through the seas around Singapore, Cassia celebrates the Lunar New Year with a series of refined menus, including a special Dim Sum lunch menu and two Reunion Set Dinner options, each featuring Cassia's Lou Hei.
Price: $139++/pax to $169++/pax
Date: From 24th January 2020
Location: 1 The Knolls, Sentosa Island, 098297
Contact: 6591 5045
PUTIEN
Celebrations start early here at PUTIEN, starting from the 1st of January with dine-in set menus for multiples of two persons and take-away options for its Prosperity Yu Sheng and Pot of Goodies. In the spirit of generosity, PUTIEN will be extending a 10% discount off bundle takeaways of its Prosperity Yu Sheng and Pot of Goodies, and its handmade Mee Sua gift box with every purchase of the Pot of Goodies. Dine-in customers can also try their luck with the Spin the Wheel game to win PUTIEN exclusives such as the handmade Mee Sua, famous Heng Hwa Bee Hoon and premium First Harvest Seaweed gift boxes, as well as the all-time favourite Spice Mum Chilli Sauce.
Price: $118/2 pax to $888/10 pax
Date: From 1st January 2020
Location: 13 Outlets Islandwide
Jade, The Fullerton Hotel
This Lunar New Year, we're combining the arts with fine dining at The Fullerton Hotel's Jade Restaurant, with delicious yet artistic dishes specially made by Chinese Executive Chef Leong Chee Yeng. These unique dishes, are an homage to Chinese tradition, while embracing the contemporary. Highlights include the Special Edition Gold Rush Salmon Yu Sheng, arrayed in the striking image of a rat treasuring a gold coin, Full of Luck Deep Fried Chilean Seabass, and Wok-Fried Boston Lobster.
Price: $98++/pax to $188++/pax
Date: 6 January – 8 February 2020
Location: 1 Fullerton Square
Contact: 6877 8188
Wah Lok Cantonese Restaurant, Carlton Hotel Singapore
Seafood lovers are in for a treat, as celebrations here are filled with fresh catches from the sea, cooked Cantonese style. It begins extravagant, with Wah Lok's signature Alaskan Crab Lo Hei or Hamachi Yu Sheng in "Soon Tak" style. Bring your family and loved ones to indulge in a seven and eight course menu featuring perennial favourites, including the Steamed Live Soon Hock, Pan fried Hokkaido Scallop, and Braised Whole Abalone, Dried Oysters with Vegetables.
Price: $398++/4 pax to $1,688++/10 pax
Date: 13 January – 8 February 2020
Location: 76 Bras Basah Road
Contact: 6311 8188
Crystal Jade Palace, Golden Palace, Dining IN & Pavilion
Crystal Jade's group of fine-dining restaurant spoils you with the most extensive range of set menus. At the Crystal Jade Golden Palace, highlights include Crystal Jade Palace's Pan-fried Tiger Prawn with Prawn Paste and Chardonnay Cream Sauce, and Wok-fried Wagyu Cube with Sliced Garlic. At the Crystal Jade Dining IN, Sea Treasure Claypot is a must-have, while Crystal Jade Pavilion offers Braised Cod Fish Sphere in Golden Thick Soup with Iberico Ham.
Price: $78++/pax to $4,888++/10 pax
Date: 15 January – 8 February 2020
Location: Various Outlets Islandwide
Golden Peony, Conrad Centennial Singapore
Classic Cantonese cuisine is presented here in six specially curated set menus. Start with Fortune Salmon and Crispy White Bait Yu Sheng, then indulge in Roasted Suckling Pig with Lemon Rice and Portuguese Chicken filling.
Price: $128++/pax to $1,398++/10 pax
Date: 6 January – 8 February 2020
Location: 2 Temasek Boulevard
Contact: 6432 7482
Jiang-Nan Chun, Four Seasons Hotel Singapore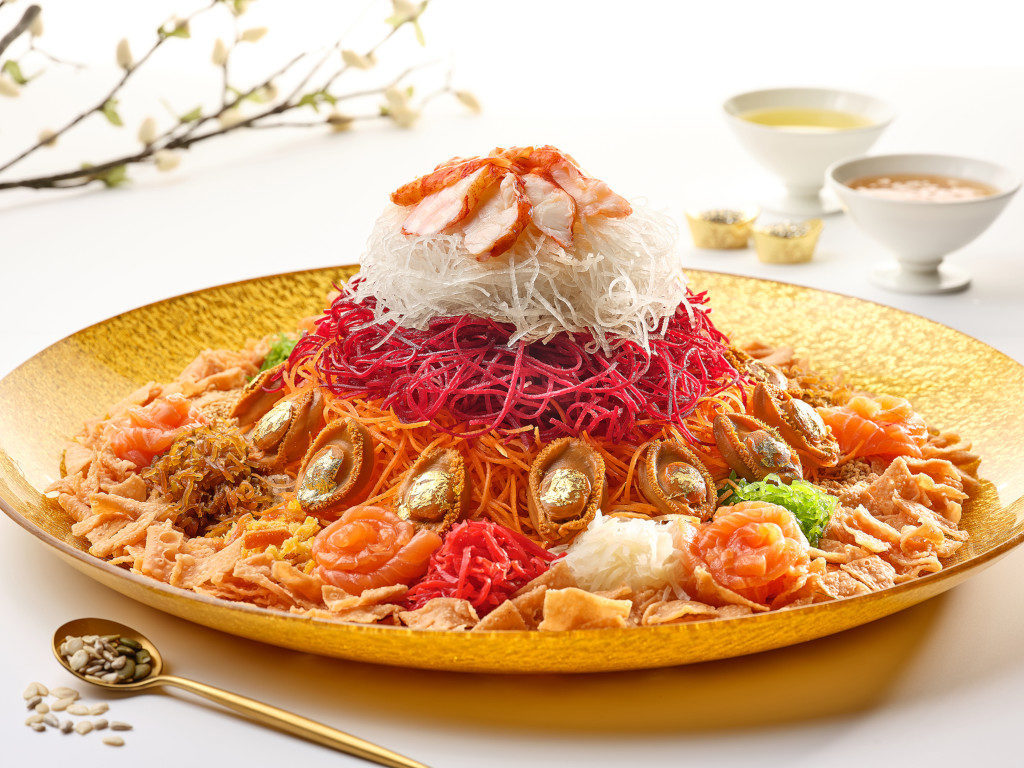 Usher in a prosperous new year with a toss to good fortune, featuring Abudance Lobster, Abalone and Salmon Yusheng at Michelin-starred Jiang-Nan Chun. Celebratory menus feature specials such as Wok-fried Boston Lobster in Black Bean Sauce, and Braised Rice Vermicelli with Three-head Abalone.
Price: $128++/pax to $6,888++/10 pax
Date: 6 January – 8 February 2020
Location: 190 Orchard Boulevard
Contact: 6831 7220
Hai Tien Lo, Pan Pacific Singapore
Break out your cameras, because the dishes here are but a mere food—they're artistic masterpieces. Highlights include Double-boiled Chicken Soup with Whole Abalone, Sea Conch and Korean Ginseng, Baked Filled of Sea Perch in Champagne Sauce, Abundant Wealth Yusheng with Lobster and more.
Price: $128++/pax, $3,388++/10 pax
Date: 9 January – 8 February 2020
Location: 7 Raffles Boulevard
Contact: 6826 8240