Sentosa's signature holiday-exclusive Island Lights has returned bigger and better to illuminate the little village of Sentosa Cove. Local and international artists along as boat owners have come together to dazzle you with colorful light installations to sprinkle a little festive cheer. So, #Maketime for an evening out with interactive light art curated by Space Objekt and light up your Instagram feed with immersive art installations while engaging in a relaxing dinner by the quay.
Candy Quarts
This installation, created by Reza Hasni (Singapore) and Tina Fung (Denmark) celebrates the evolution of wonder and human connections. The light-hearted installation conveys a visual story through illustrations inspired by elements of the zodiac and the art of play. The seesaw which symbolizes harmony, justice and good judgement aims to encourage both adult and children to have fun.
"When Love Beckons To You, Follow Him" (Khalil Gibran, The Prophet)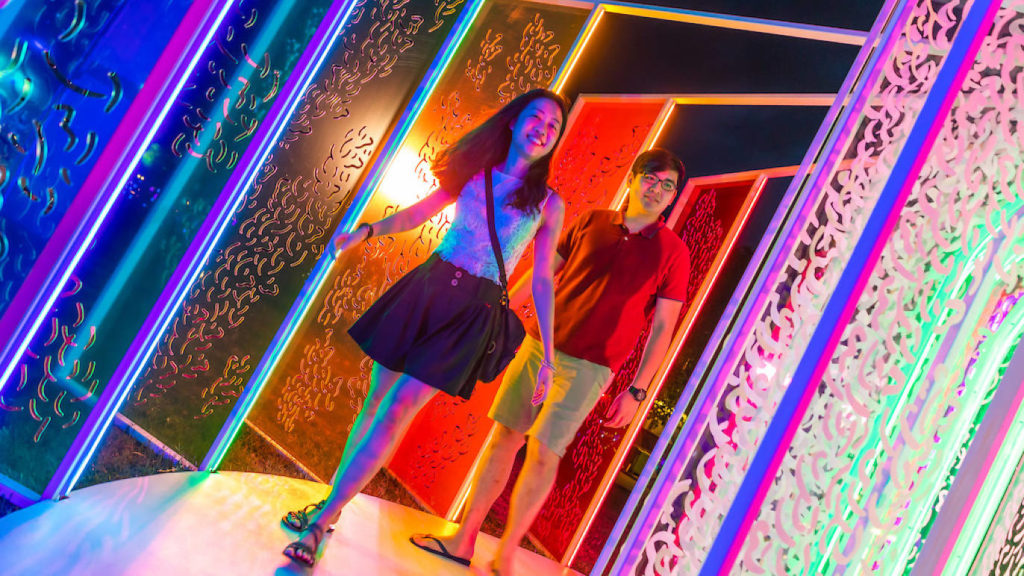 This installation was created by Juls (Singapore) and Tina Fung (Denmark) by merging set design and the art of marking. The halved dome represents the openness to accept and embrace others into our lives. The multi-colored panels represent the different auras we emanate, symbolizing the law of attraction. In short, it is a celebration of the essence of life—love.
ShadowDial
Time is a concept deeply embedded in humans since the beginning. Our lives are organized and our days are a continuing evolution of structured acts with hourly guidelines. This installation by LEDscontrol (Barcelona) explores the perception of time in a sensory way, playing with it through shadows and movement.
Beacon of Light
Beacon of Light is the artist, Tina Fung (Denmark)'s interpretation of the typology of a historic building, the lighthouse. Inspired by their site-specific location, the lighthouses symbolize being forward-looking and the help we receive as we navigate through rough waters—financial, personal, business and spiritual.
Shimmershack
This doll house, designed by Tina Fung (Denmark) is a visual of her signature use of lightplay and coloured acrylic. Polina Korobova (Russia) steps in with an interactive performance titled 'Pink', using Shimmershack as her stage. With an aim to bring smiles all around, this durational piece kicks off with gifts of pink, fluffy cotton candy for her audience, bringing back nostalgia and excitement for all ages. Then, Korobova will immerse and shower herself in glitter, gradually transforming into an artwork—the Glitterqueen persona.
Transcendence
From the process of creation to the order of visual striations, this piece by Darel Carey (United States) demonstrates a unification of varying dimensions coalescing to serve as one. Each line on its own is an individual, but when they come together they become something more.
Lastly, here's a little early Christmas gift for you to enjoy now til the 31st December!
$6 Off Grab Ride when you use the promo code: SentosaEvenings
Admission: Free
Location: Sentosa Cove