WALKING WITH DINOSAURS – THE LIVE EXPERIENCE, WILL THUNDER INTO SINGAPORE 29 AUGUST
One of the most famous and notable dinosaurs, the Tyrannosaurus Rex (as a life-sized baby version) made an appearance roaming Singapore soil today as part of Walking with Dinosaurs – The Live Experience production which will open on 29 August at the Singapore Indoor Stadium. Tickets are available from www.sportshubtix.sg.

Roaring and moving just like the real thing, the Baby T-Rex took to perfect conditions in Singapore terrorizing everyone and anyone who got in the way. Journalists and the general public experienced an up close and personal glimpse of what is to come as this globally acclaimed production lands in Singapore in two weeks.
Walking With Dinosaurs – The Live Experience, is based on the award-winning BBC Television Series, comes to Singapore with a must-see live arena spectacular. Watched by more than 9 million people in more than 250 cities around the world, the production will captivate audiences of all ages as 18-life size dinosaurs take over the Singapore Indoor Stadium.
Each dinosaur is operated by world class performers who operate the creatures with a series of animatronics and physical puppetry, which combine to truly bring the dinosaurs to life. The audience is transported into the world in which they lived via an impressive arena sized set featuring projection, amazing lighting effects and of course "living and fighting" dinosaurs.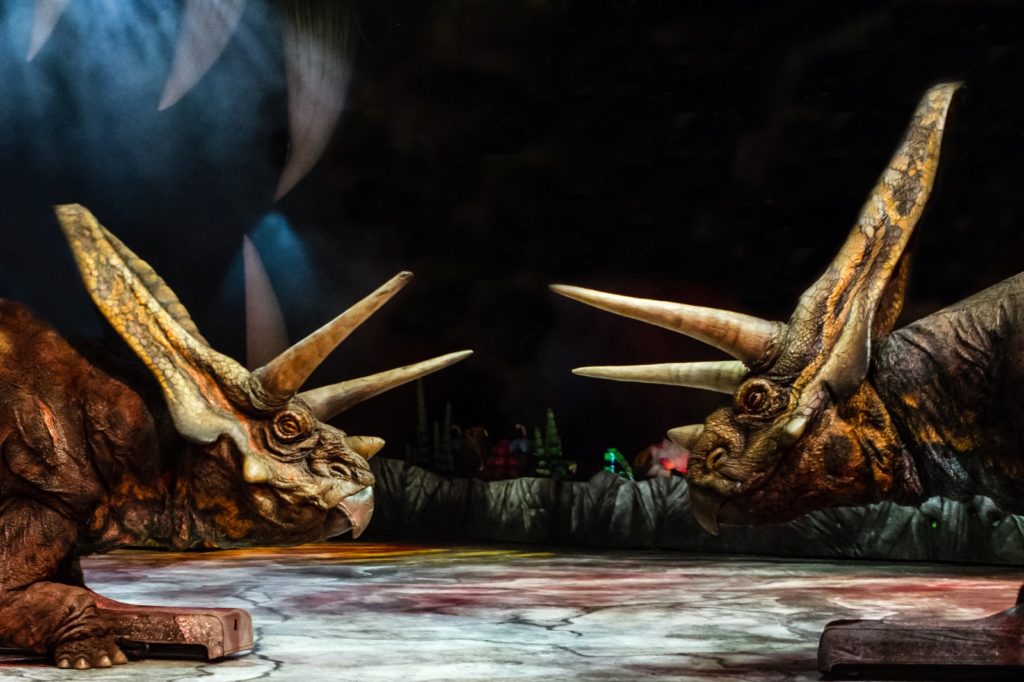 Walking With Dinosaurs opened its World Tour in the UK in July 2018 and has embarked on an international tour, taking over arenas across Europe, and now heading into Asia with a stopover in Singapore. The $20 million production features updated, state of the art technology, underlining its position as the biggest and best dinosaur show in the world.

This updated production will showcase spectacular and colourful changes to the dinosaurs based on the latest scientific research including the likely feathering of some species. The one-hour, 40-minute show depicts the dinosaurs' evolution with almost cinematic realism. Walking With Dinosaurs – The Live Experience has scenes of the interactions between dinosaurs, how carnivorous dinosaurs evolved to walk on two legs, and how the herbivores fended off their more agile predators.

Walking With Dinosaurs – The Live Experience is produced by Global Creatures and promoted in Singapore by UnUsUal Entertainment and Sliding Doors Entertainment. The show originated from Australia, where after years of planning and work, Walking With Dinosaurs – The Live Experience came to life in January 2007. Soon after this the show went on to conquer the whole world with record-breaking audiences.

WALKING WITH DINOSAURS – THE LIVE EXPERIENCE
Season:  29 August – 8 September 2019
Venue: Singapore Indoor Stadium

PERFORMANCE TIMES: 
Tuesday – Friday:  7:00pm 
Saturday - Sunday  10:30am, 2:30pm and 6:30pm

TICKET PRICE: 
From $78
* Excludes the booking fee of SGD$4 per ticket


BOOKINGS:  
INTERNET:  www.sportshubtix.sg
PHONE:  +65 3158 7888